Meet the cast and crew of FIDDLER ON THE ROOF!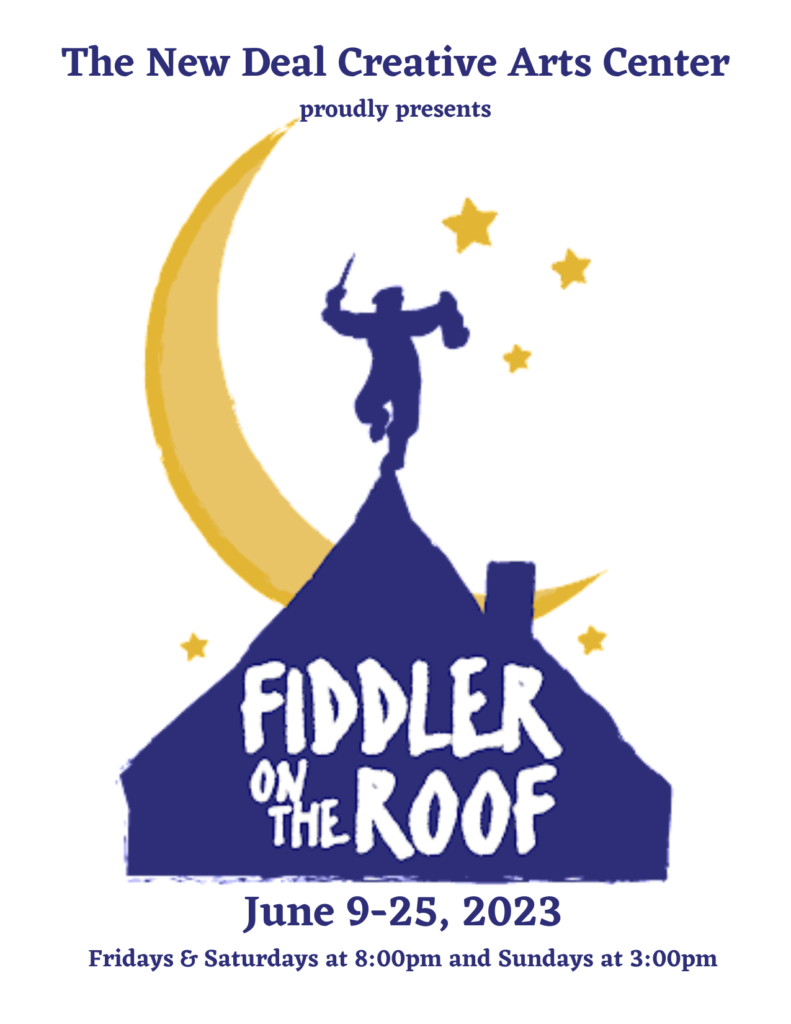 Jessica Boyd (Grandma Tzeitel) Previous roles include Dorothy in The Wizard of Oz (Center for Performing Arts at Rhinebeck) and Abby Brewster in Arsenic and Old Lace (New Deal). Jessica extends heartfelt thanks to everyone involved in this production.
Natalie Bunta (Villager) was last seen this past fall at The Center as Nicola in Kinky Boots. She would like to give a huge thank you to her kind cast members and hardworking production team for making this show come to life!
Robert Cogliati (Nachum/Yussel) is honored to be making his New Deal debut. He was recently in The CENTER's production of Twelfth Night (Valentine). Big thanks to Joe for this opportunity along with the whole cast, production team, friends, and family. In memory of Slate who styled Nachum's boots and hat.
Kailee Cornelison (Daughter ) –   Is absolutely thrilled to be doing her first show since before Covid !  She was last seen in Crucible (Susanna Walcott) with New Deal, A Radio Play of A Christmas Carol (Tiny Tim) at the Olive free Library and Mamma Mia  (ensemble) at the Phoenicia Playhouse. Kailee would like to thank her family and friends for their support during this fun process! 
Karen Dalmer-Sheehy (Rifka) has acted as music director for several productions, including RENT (CENTERstage), Young Frankenstein (County Players), Something Rotten (New Deal), and Bring It On! (Newburgh Free Academy). She also recently appeared as a performer in Sondheim On Sondheim (CENTERstage). She is thrilled to be performing alongside her daughter and partner! Thanks to her parents for their support, and love to Molly, Aidan, and Glen. 
Sophia Degraff (Bielke) Sophia's performances include Wizard of Oz, A Charlie Brown Christmas (Pig Pen), The Christmas That Was Almost Cancelled (Blitzen), Tuck Everlasting, The Addams Family, A Christmas Carol (Tiny Tim) and The Tempest. Sophia enjoys performing for and taking classes at New Deal, creating art and spending time with her family. 
Blake Dobbins (Mendel) is a sophomore at FDR high school. Blake has been in many shows including SpongeBob The Musical as SpongeBob and was seen as Miles in Tuck Everlasting at New Deal. He is excited to be apart of this amazing production!
Teresa Gasparini (Golde/Producer) Two loving parents took their impressionable 8-year-old daughter to see her first Broadway show in 1990 which happened to be Fiddler on the Roof. Since then, Teresa has been involved in over 100 theatrical productions in almost every capacity imaginable and she wouldn't change a thing. "Thanks, Mom & Dad. I owe you one." To Life!
Mark Grunblatt (Rabbi)  Favorite roles at the Center include Pulitzer in Newsies and Marius in Jacques Brel is Alive and Well and Living in Paris.  In prior local productions of Fiddler, Mark has portrayed Avram, Lazar Wolf and the Rabbi's son, Mendel.  He dedicates this performance to all his family from the shtetls of Zhytomyr and Kolomyja, Ukraine.  Mark lives and practices law in Kingston.  L'chaim!
Sienna Guzik (Shprintze) is a hard working person. This will be her second production with New Deal. She participated in season 5 of Lights Camera New Deal, and The Christmas That was Almost Canceled. When not acting she participates in karate, Girl Scouts, and STEM programs. She loves the community and hopes to do more with us. 
Champ Knecht (The Constable) made his Dutchess County debut (after a long hiatus) as Sir Andrew Aguecheek in the recent Center Stage production of Twelfth Night. Favorite acting roles include Gary Lejeune in Noises Off, Algernon Moncrief in The Importance of Being Earnest, Medvedyenko in The Seagull, and Simon Bliss in Hay Fever. His directing credits include Angels Fall, The Cocktail Hour, and Stephen Sondheim's Assassins. Champ would like to thank all the folks at New Deal Creative Arts for a warm welcome to this first of hopefully many productions.
Chuck Kramer (Avram) is thrilled to perform on stage for the first time in 49 years since appearing in Lil' Abner in the 8th grade. He can now check acting off of his retirement bucket list. Chuck would especially like to thank his wife for her immense patience!
Krista Libertino (Mama/ Shaindel understudy/Jewish Man) is thrilled to be performing in her fourth New Deal Creative Arts production. She would like to give a big thanks to her family, for their support and willingness to share her and her limited free time, so she could perform in this production. 
Glen Morrice (Motel) is excited to return to New Deal after appearing in Arsenic and Old Lace (Lt. Rooney). Other recent credits include County Player's A Funny Thing… (Hysterium); CP2's Constellations (Narrator); CENTERstage's RENT (Benny). He is thrilled to share the stage with his partner, Karen Dalmer-Sheehy, and her daughter, Molly! He would like to thank his friends and family for all their support!
Kate Podell ( Mirala) is thrilled to be in Fiddler on the Roof. Previous roles include: Martha in Arsenic and Old Lace, Lois/Bianca in Kiss Me Kate, Sally Brown in  You're a Goodman Charlie Brown and Ursula in Bye Bye Birdie.
Felicia Olson (Shaindel) First performance with The New Deal Creative Arts Center.  Thanks to her family and friends for their support and to Joe for this wonderful opportunity. L'Chaim!
Jane Petruncola (Tzeitel/Assistant Choreographer) making her New Deal debut, is a NY based actor, holding a Bachelor's in Musical Theatre. She most recently was seen on stage as Nancy in Oliver! and can be found on screen in Chang Can Dunk (Disney+), Pretty Little Liars: Original Sin (HBO Max), and Once Upon A December (Hallmark). Huge thanks to her family for their unconditional support in her theatrical endeavours!
Howie Riggs (Lazar Wolf) is thrilled to return to New Deal Creative Arts, having previously appeared in The Great Gatsby and Something Rotten. He has performed in nearly two dozen productions with several Hudson Valley groups, most recently in Kinky Boots with RTS on the CENTER stage last fall. Thanks, as always, to family, friends and cast mates for patience and support. L'Chaim!
Molly Sheehy (Villager) has participated in many New Deal performances, such as Tuck Everlasting and New Deal's Art in the Park performances of Julius Caesar and The Tempest. When she's not on stage, she studies Irish step dance at Cherilyn's School of Dance and performs with the HMS Select Choir. She's excited to be doing her first show with her mom, Karen!
Haley Staples (Villager) is a fun loving girl who loves the stage and theater. She has been with The New Deal company for many of years and has taking many classes and preform in many plays like A Christmas Carol, Charlie Brown Christmas, Tuck Everlasting and the most recent The Christmas That Was Almost Canceled. Haley hopes and plans on continuing with her love for the stage  with The New Deal Family.
Meredith Sunberg (Fiddler) This is Meredith's debut with New Deal Arts and she's been playing the violin for 9 years. She also enjoys playing the bass, ukulele, piano, and drums, regularly performing with The Strawberry Hill Fiddlers and The Stringendo orchestra program. 
Liam Thomas (Villager) As the middle child, Liam has had a lifelong role of entertainer in his family. This performance is his first official launch of his acting endeavours outside of home.
Robert Trama (Perchik) Who needs therapy when you have theater? 
Wendy Urban-Mead (Yente). Recent credits include performing in New Deal's 10×10 festival earlier this year; CenterStage's Twelfth Night (ASM); RTS' Kinky Boots (Pat); New Deal's Merry Wives (Meg Page.) She thanks her cast mates and all on the production team for being wonderful, and her family and friends for their support. For Kevin.
Noah Watts (Lev) This is Noah's second production with New Deal Creative Arts. Last year he enjoyed being a part of his first production, A World War II Radio Christmas. Some of Noah's current interests include cycling, reading books, listening to various genres of music, and practicing the violin.
Kelsey Wertheim (Assistant Director) is thrilled to be making her directorial debut with New Deal's production of Fiddler on the Roof. Recent production credits include: CENTERstage production's Twelfth Night (costumer) and New Deal's Arsenic and Old Lace (production manager, costumer, scenic artist) and Into the Woods (costumer, scenic artist). She would like to thank her "mentors" Joe and Teresa, and her dear husband, Mark Wertheim (Poor guy!), for their support and inspiration.
Mark Wertheim (Boris, Papa, etc.) is excited to be in another New Deal production! He is grateful to his amazing wife, Kelsey, the Gasparinis, and the amazing New Deal family for another great production! "Cheat out!"
Grace Woodcock (Stage Manager) is delighted to be the Stage Manager for Fiddler on the Roof. Grace would like to thank the cast, crew and pit. 
Scott Woolley (Mordcha) wishes to thank the Gasparini's for including him in the best New Deal show ever! And if you don't agree it's fine, because "I'd far rather be happy than right any day."