Meet the cast and crew of William Shakespeare's THE TEMPEST!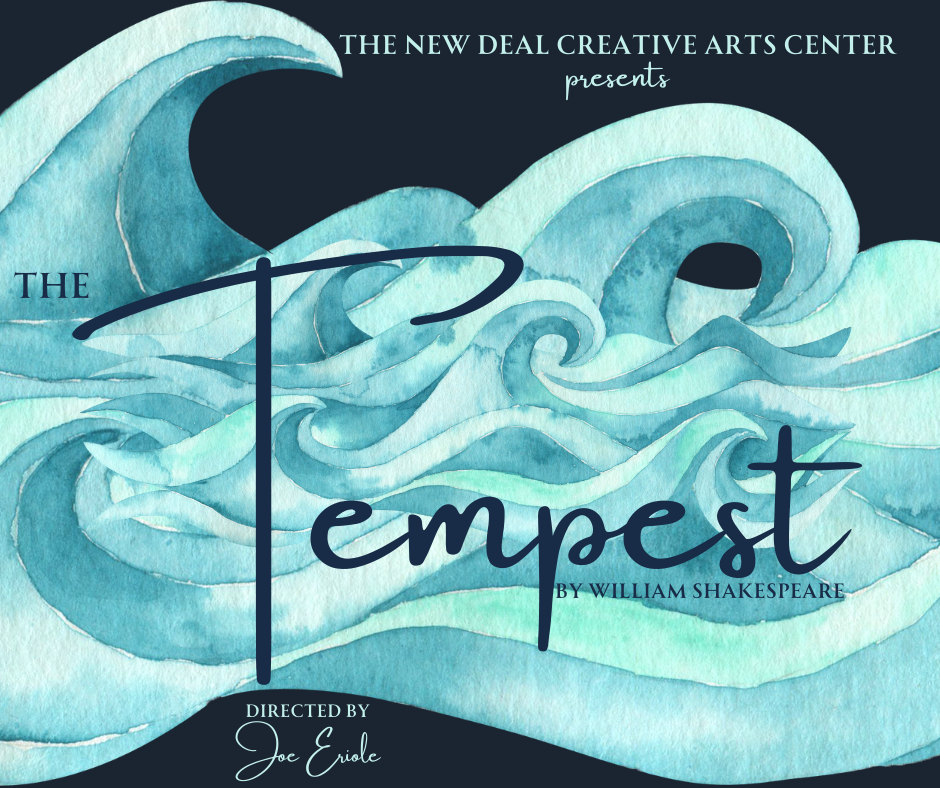 CAST
John Schmitz (Prospero) had a blast making magic with such a great cast and crew of friends old and new. John appears regularly at Hudson Valley theatres; favorite productions include Noises Off, Our Town, Julius Caesar, Much Ado about Nothing, Bernhardt/Hamlet and Pinter's Mountain Language. Thanks to Joe for his strong support and direction—and thanks to all of you who support local theatre!
Maggie Bogan (Miranda) is delighted to be performing in her first production with New Deal Creative Arts, and this also marks her 6th Shakespeare show. You might call her an enthusiast. Her latest productions include As You Like It (Corin), It's a Wonderful Life, Bernhardt/Hamlet (Lysette), and PROM (Godspell Ensemble). She would like to shout out Nick Clary, who is solely responsible for her love of Shakespeare. Break a leg to the cast and production team!
Maya Schubert (Ariel) is honored to be part of this production with such a lovely team. She was last seen in Rhinebeck Theatre Society's Emilie (Soubrette) and Centerstage Production's Parade (Mary Phagan). Thank you to Joe and Josh, and to the Bard for writing stuff dreams are made on. For Kevin.
Liggera Edmonds-Allen(they/them) (Caliban) is so excited to be working with the New Deal Creative Arts Center! When they're not acting, they are a playwright, dramaturg, and poet. They would like to thank their incredibly patient family for putting up with all the theatrics. They would also like to thank NDCAC for the warm welcome — especially their scene partners Justin and Molly. Slay!
Dan Chester (Ferdinand)  is a Hudson Valley based artist, musician, and filmmaker. He previously worked with New Deal as an actor in Arsenic and Old Lace and as a director in the 2022 10×10 festival. He also does a variety of jobs at the Center for Performing Arts at Rhinebeck from dancing and singing on stage to stage managing, set designing/painting, and lighting. You may also find him selling tickets or snacks at the Center or adopting cats and dogs to the public at the DCSPCA. He also likes working with the Hudson Valley Performing Arts Laboratory where his wife is the resident stage manager and he is in a band named Faezon.
Molly Feibel (Trinculo)  Molly is thrilled to once again be undertaking outdoor Shakespeare with Joe Eriole! She'd like to thank the whole Tempest Team, cast and crew, for making this the best kind of chaos. Special thanks to her partners in buffoonery, Justin and Geri. #slay.
Justin Antonio Doro (Stephano)  is excited to be jumping into a lot of firsts with this production of The Tempest! This is his first production with New Deal, his first time performing Shakespeare and his first time performing in a graveyard! He is so thankful to be part of such a supportive and thriving community of theatre artists! Make sure you also come on out to catch him in Rebel Without A Cause at the Center For Performing Arts in Rhinebeck!
Jessica Boyd (Queen Alonsa) Jessica is thrilled to have found her way back to The Tempest after playing Prospero as a sophomore at Bard College quite a few years back. Recent roles very dear to her heart include Grandma Tzeitel (Fiddler on the Roof), Dorothy (The Wizard of Oz), the Ghost of Christmas Past (A Christmas Carol), and Aunt Abby Brewster (Arsenic and Old Lace). Many thanks to all involved in this project!
Champ Knecht (Antonio) is fully in his villain era, after playing the Constable in New Deal's recent production of Fiddler on the Roof. He made his Dutchess County debut as Sir Andrew Aguecheek in the recent Center Stage production of Twelfth Night. Favorite acting roles include Gary Lejeune in Noises Off, Algernon in The Importance of Being Earnest, Medvedyenko in The Seagull, and Simon Bliss in Hay Fever. His directing credits include Angels Fall, The Cocktail Hour, and Stephen Sondheim's Assassins. 
Harrison Mark (Sebastian), the man of two first names, is a resident of Staatsburg and a staff writer for World History Encyclopedia. When he is not scheming to seize the throne of Naples, he can often be found reading, hiking, or struggling to play guitar. This is Harrison's first performance with the New Deal Creative Arts Center, who he would like to thank for the opportunity to act alongside this wonderful cast!
Alison MacAvery (Gonzala) Previous roles include Judith in Designated Driver and Nurse Tack in the Waiting Room for New Deal's 10 X 10 Fest. She also appeared at the Center's production of Plan 10 and The Kiss. Her enthusiasm for the written word includes play writing, short stories and poetry. Alison is grateful for the opportunity to be part of Team Tempest.
Joey Fager (Adrian/Bosun) Joey is very excited to have a part in this show as "Adrian".  He has been in many shows put on by the New Deal Creative Arts Center in the past including, Julius Caesar, Romeo and Juliet, The Wizard of Oz, and Tuck Everlasting. Finally, he would like to thank the Cast and Crew for this opportunity.
Stacey Crocco (Iris) is excited to make her theater and acting debut! She is grateful for the love and support of her family, and especially the gift of acting alongside her eldest daughter, Cassidy.  Stacey also wishes to thank her inspiring cast-mates, crew who have shared their rich experience and taught her so much. She is grateful to New Deal,  this is an experience to cherish.
Judy Ryan (Juno/ Second Nymph) She is 17 and going to Sarah Lawrence College this fall and hopes to study music and art. This is her 4th show, and she's excited to work with Joe again. Her previous roles include Farrah and Evil Tina in She Kills Monsters, and William in As You Like It.
PRODUCTION
Joe Eriole (Director) Joe is excited to be directing The Tempest, his first directorial stint for New Deal since directing its inaugural Shakespeare Festival three summers ago, his original composite adaptation of Shakespeare's villains, Hell is Empty, All the Devils Are Here." He thanks Josh for his insights, Emily for being an ever-steady hand in this tempest, and the production team for its hard work. 
Joshua Ezra (Assistant Director) Joshua is ecstatic to be braving the storm once again and revisiting one of his favorite shows! Joshua previously played Prospero at SUNY New Paltz. He is very excited to get back into directing this summer with The Tempest, as well as a horror short, "Down by the Bay". The film is scheduled to premiere at Scared for your Liife at the Cinema Arts Centre in Huntington, NY this fall. Previous Shakespeare Directing credits include: Romeo & Juliet, A Midsummer Night's Dream, Measure for Measure, Henry IV Part I, & Cymbeline.
Emily McCarthy (Stage Manager) is a local actor, improviser, and an animal welfare worker. Previous theatrical credits include: Fly System Operator for The Play's the Thing and Light Board/Projections Operator for The Magnet Theatre: Musical Megawatt, Secret Garden, Howl at the Center. Media credits include: Production Manager/Casting Director for Demetria's Journey. They are very excited to be back, working with New Deal and thrilled to watch this incredible cast conjure up one epic storm! 
Becca Hoag (Choreographer) " Miss Becca", as she is affectionately called by her students, has been involved in theatre and dance arts for the last 29 years. She is currently a local dance studio director/ owner headed into her 14th year. Becca has received top honors & accolades competitively for her work. She is honored to be a part of the crew / cast presenting The Tempest.
Matt Eriole (Original Music) Matt Eriole is a singer-songwriter and guitarist based in Lowell, Massachusetts. In addition to his self-released albums, he contributed original music to Joe's production of Henry V. He is delighted at the opportunity to work with Joe again on this amazing production, and grateful to his guidance from afar. He would like to thank his parents, his sister Liz, and his wife Natalie for always supporting his musical aspirations.