The New Deal Creative Arts Center announces auditions for the 3rd annual 10×10 Fest!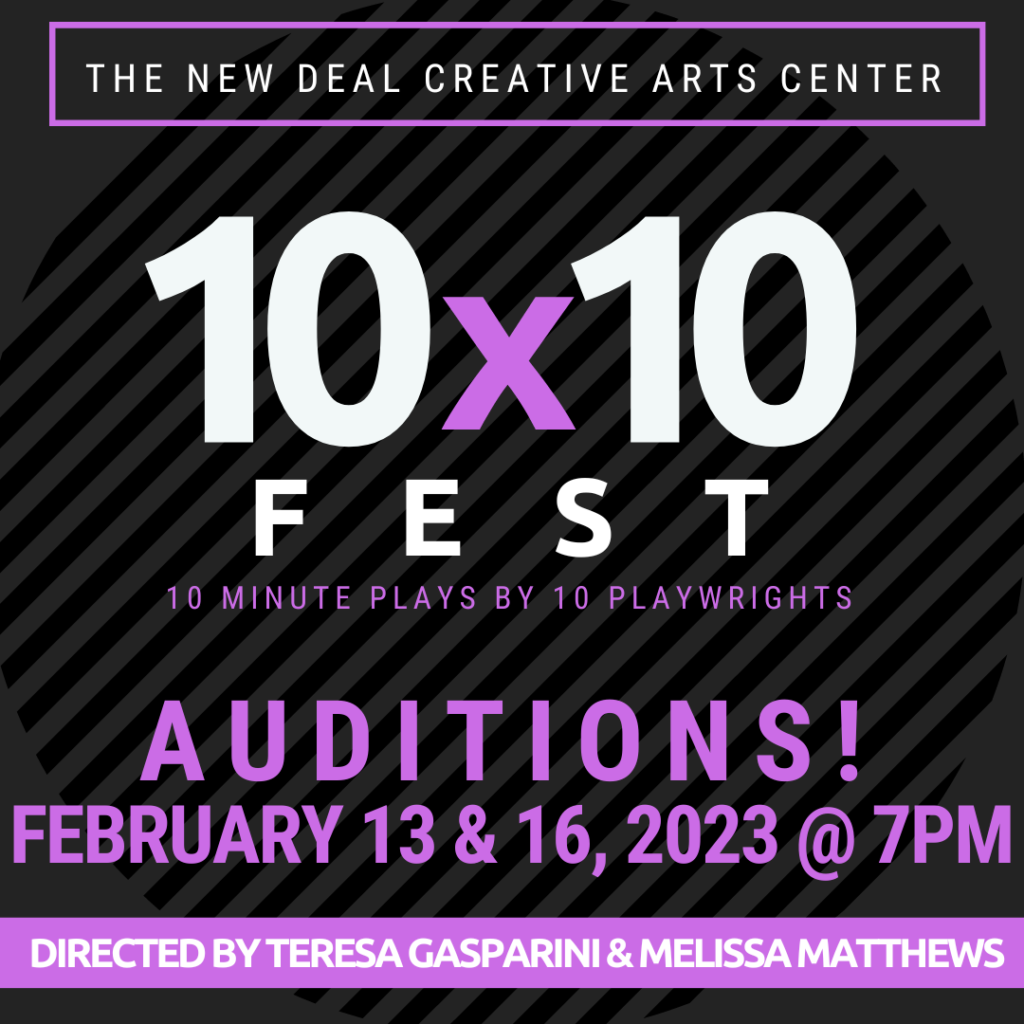 10×10 Fest – 10 minute plays by 10 playwrights featuring:
A Wake by Brian Petti
Going Down by Teresa Gasparini
10 Minute Session by Lance Turner
Meter Maid McGee by Dwight Watson
Apophenia by Terrence Dwyer
The Waiting Room by David Simpatico
Charlie by Beth Polsky
Cliche by Keith Whalen
Sunday.new/jersey by Jill Maynard
Sugar by Jennifer O'Grady

Auditions:
February 13th OR February 16th, 2023 at 7:00pm at The New Deal Creative Arts Center (4408 Albany Post Road, Hyde Park)

Excerpts from the selected plays for this year's festival will be used at auditions. Please scroll to the bottom for a short synopsis of plays and character breakdowns.
Actors of all genders, races, sexualities, and backgrounds are welcome and needed to fill over 20 roles.
Ages 18+ !

Rehearsals:
Rehearsals will begin in March and a schedule will be created based on actor and director availability. Rehearsals will be held at The New Deal Creative Arts Center (Hyde Park, NY) or at Oakwood Friends School (Poughkeepsie, NY)

Performances:
Friday, April 21st at 7:00pm
Saturday, April 22nd at 3:00pm and 7:00pm
Performances will be held at Oakwood Friends School (Poughkeepsie, NY)

Contact:
Teresa Gasparini: [email protected]
A Wake by Brian Petti
A Wake takes place at a wake, during a conversation between old friends.
Seeking: Two women. They are old friends, both somewhere in their 40s-50s.

Going Down by Teresa Gasparini
Two strangers find an unexpected connection in an elevator stuck between the 16th and 17th floor.
Seeking: Rosie: 20s-40s, business professional, Trevor: A similar age as Rosie, in search of a job
10-Minute Session by Lance Turner
A therapist and her patient meet for an impromptu session, but as their discussion takes a series of unexpected turns, they discover a common bond.
Seeking: Laurie (f) 40s/50s, Jaime (m) 30s

Meter Maid McGee by Dwight Watson
Good-natured Randy Cope feeds coins in expired parking meters in a courthouse parking lot. Spotted by Officer Rita McGee, a dedicated traffic service enforcement officer, Randy is threatened with a citation for his "generosity." When Officer McGee discovers that Randy is also an organ donor, she chides him for his kind-heartedness, but then replaces the citation with an offer that Randy may or may not wish to consider.
Seeking: Randy Cope (a benevolent pedestrian, male, older) Rita McGee (A Traffic Enforcement Officer, female, about the same age as Randy)

Apophenia by Terrence Dwyer
A wife's sighting of a cardinal in the yard and a husband's ridicule and rationalization leads to a morning discussion of faith versus reason and the husband leaving for work less sure of himself and his rationalizations.
Seeking: Russell: male, early to mid-30s, structured, smart, and sure of himself, Valerie: female, early to mid-30s, whimsical, loving

The Waiting Room by David Simpatico
Six patients compare infirmities in a suburban orthopedic center.
Seeking: Nancy, a frail older woman in a white tracksuit, sits on the Ikea sofa, going through her large pocketbook.
Darlene, a solid, no-nonsense woman in her 40s with long straight hair, sits on the other couch, gazing in front of her. She wears a high neck brace.
Bob, a rugged construction worker in his 40s, sits in a chair at an awkward position, his ribs trussed up in a tight, removable wrap.
Peaches and Olaf, a couple in their 40s, sit next to each other. His arm rests in a brace, which keeps it at a diagonal over his head. Peaches slowly flips through a tattered, back issue of People Magazine, a hazy, drugged-out smile locked on her face. Her fingers play with her soft, fluffy hair.
Andy, a man in his 40s, his body as badly bowed as the umbrella he uses for a cane.

Charlie by Beth Polsky
Two robots and their engineer creators come together in this bawdy but insightful comedy to discover the power of human connection and emotions.
Seeking: David: an engineer, Charlie: a robot, Violet: an engineer, Marcy: a robot, A Voice

Cliche by Keith Whalen
A nervous man pours his heart out to a stranger on a park bench, only to become exasperated with her unusual way of speaking. When a cop comes upon the pair, he attempts to settle the argument but ends up embroiled in their quarrel.
Seeking: He (M), any age , She (F), any age , Cop (M/F), any age

Sunday.new/jersey by Jill Maynard
The aged parents of Romeo and Juliet prepare to make their exit from a New Jersey nursing home imperiled by climate change.
Seeking: Sal: M/95. Italian-American widower. Sharp as a tack.
Frances: F/93. Italian-American widow. Mainly lucid, with lapses.
Romy: M/64. Frances' son and Julie's husband. Dutiful but ready to see his mom go.
Julie: F/64: Sal's daughter and Romy's wife. Knows she's the smartest one in the room.

Sugar by Jennifer O'Grady
Lilia is startled when her new neighbor Jaden knocks on her door and asks to borrow sugar. But Jaden has an urgent ulterior motive that has nothing to do with sugar, and everything to do with Lilia.
Seeking: Jaden: A woman of any age. , Lilia: A woman of any age. 



New Work Submissions:
New Deal is not currently accepting new work submissions at this time. Please check back for future opportunities.