TICKETS ON SALE NOW!!!
GET YOUR TICKETS BY CLICKING HERE !!!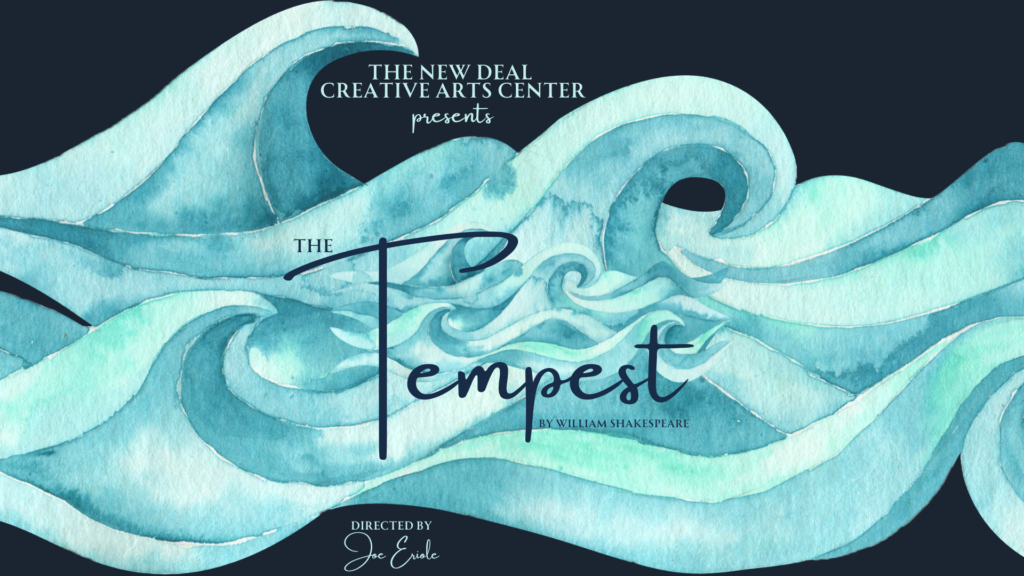 Join us for some Shakespeare in the great outdoors as The New Deal Creative Arts Center presents The Tempest!
THE TEMPEST: The wizard Prospero, once Duke in Milan, but overthrown by the betrayal of his brother Antonio, conjures a deadly storm to capsize a ship carrying that same traitorous brother, and his royal co-conspirators. Aided by the mystical nymph Ariel, Prospero sets the survivors of the wreck ashore in separate bands across the island, at the mercy of Prospero's magic and the island's harsh environment. Caliban, the island's tormented "monster," whom Prospero has put under heavy servitude, is meant to assist Prospero's plans, but instead allies with two shipwrecked schemers to overthrow Prospero and gain freedom. At the same time, the impenitent Antonio seeks to convince his colleague, Sebastian, to likewise overthrow his own sister, the Queen of Naples. The Queen and her beloved son, Prince Ferdinand, are also stranded on the island, and while the threatened Queen believes her son drowned, Fedinand, in fact, encounters Prospero's daughter, Miranda, and the two are hopelessly enchanted by one another. It is a sweeping tale of magic, love, treachery, vengeance, and liberation.
 
BUY TICKETS ONLINE AND SAVE: $15.00 IN ADVANCE – $20.00 AT THE DOOR!
Performances will be held at The New Deal Creative Arts Center's NEW location: 4526 Albany Post Road. Please bring chairs, blankets, bug spray, and feel free to pack a picnic to enjoy during the performance! Join us in the cemetery garden onsite for an unmatched immersive experience.
NEW DEAL'S MONTHLY BOOK CLUB!